Application Development & Maintenance
Develop and Support Enterprise Applications with faster upgrades, reduced implementation cycles and low defect rates.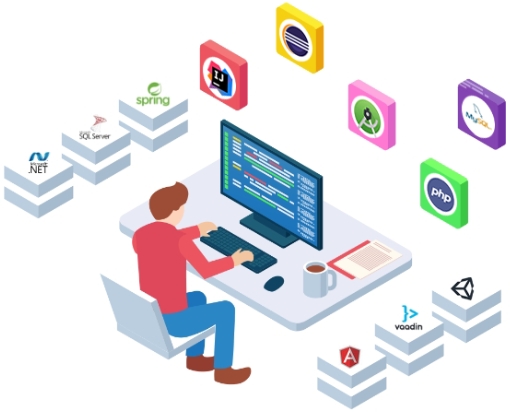 Web and Desktop Enterprise Applications
While technologies have grown significantly over the years, some aspects of an organization are unique and complex in their nature. More often than not, these aspects are not addressed by off-the-shelf options; our technical/domain experts cater for these with viable technical solutions.
Though organizations work best with translating their business into requirements, Evantagesoft works best in translating those requirements into a solution that covers and enhances the ROI of the organization. Evantagesoft leverages the industry best practices and methodologies to create applications that work for you.
Evantagesoft has a wide range of experience and expertise in building turnkey solutions, converting business knowledge into technically sound solutions.
Value addition services from Evantagesoft include designing the application, its implementation, roll out, training, as well as its maintenance. Further enhancements and growth within the application are also part of the maintenance and management of the application.

Application Support and Maintenance
Problem analysis, resolution, support & application enhancement

Application Modernization
To new technology platforms on the web
Workflow enablement
Database server porting
Data migration, stand alone to web migration

Custom Application Development
Specific to the client's business requirements & catering to multiple domains

Solutions Re-Engineering and Enhancement
Assessment of existing processes & solutions
Business process re-engineering to meet hyper-competitive market needs
Conversion/Upgrade to contemporary technologies
Enhancement & Improvement of User Experience

Application Testing and Audit
Code reviews
Functionality to requirements verification
GUI usability
HTML standards compliance testing
Performance/security/stability testing
Mobile Application Development
An intuitive, mobile-first experience to differentiate your brand
Evantagesoft offers a complete set of mobile app development services using native and cross-platform frameworks. Evantagesoft is vastly experienced in developing and testing Mobile Applications using scalable cloud backend solutions.
Our mobile application development processes are built on effective communication and consultation practices, extensive testing, constant refining of interactive processes, and continuous innovation with regular release updates.
We make sure that every component of your application resonates your brand and grow a loyal customer base. We create value-added applications tailored exactly to your specific business requirements for enhanced efficiency, functionality and value addition.